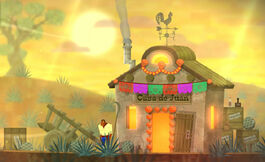 Casa de Juan is the starting point of Guacamelee!. It is the home of Juan Aguacate and is located within the Agave Field just beyond the town of Pueblucho.
Casa de Juan is the small and quaint home of Juan Aguacate. Its exterior features a farming sickle propped up against the house, three open cases of tequila, and an abundance of Blue Agave plants, The house has been decorated to celebrate the Day of the Dead.
The interior of the house shows that Juan has a distillery where he produces an abundance of tequila. Some of the decorations in his home also show that he is an avid Lucha Libre fan. With the additional exercise equipment set up around his house, it is clear that he has been training to become a luchador.
The abundance of open tequila bottles located through Casa de Juan may indicate that Juan Aguacate is an alcoholic.
The name "Casa de Juan" literally translates in Spanish to "Juan's Home"